AAN contributes to book on "Education and Development in Afghanistan"
Girls receive their exam certificates in Jaghori district, at a school supported by German NGO Freundeskreis Afghanistan (FKA). Photo: FKA 2011.
After years of military interventions, the current situation in Afghanistan is highly ambivalent and partially contradictory – especially regarding the interplay of development, peace, security, education, and economy. Despite numerous initiatives, Afghanistan is still confronted with a poor security and economic condition. This volume investigates the tension between these ambivalent developments. Sociologists, political and cultural scientists along with development workers, educators, and artists from Germany and Afghanistan discuss the idea that education is primary for rebuilding a stable Afghan state and government. (intro text of the publisher)
Bittlingmayer UH, Grundmeier AM, Kößler, R, Sahrai, D, Sahrai, F (eds): Education and Development in Afghanistan. Challenges and Prospects. Bielefeld: transcript, 2019.
One chapter ("Schools on the Frontline: The Struggle over Education in the Afghan Wars") was contributed by AAN's Thomas Ruttig. It deals with the subject of the expansion of the educational system in Afghanistan, starting under the rule of reformer-king Amanullah (1919-29) and the societal, modernisation-related conflicts it created that shaped the country's history throughout the twentieth century and continue to do so.
This chapter particularly focusses on the Taleban's policies on education, both when in power (1996-2001) and back into their insurgency (after 2001). This analysis is a contribution to the discussion about what can be expected from the movement should get back in power in the country, either as a result of a peace and power sharing agreement or by military means.
Ruttig, Thomas (2019), "Schools on the Frontline: The Struggle over Education in the Afghan Wars", in: Uwe H. Bittlingmayer/Anne-Marie Grundmeier/Reinhart Kößler/Diana Sahrai/Fereschta Sahrai (Eds.), Education and Development in Afghanistan (101-140). Bielefeld: transcript Verlag.
PDF version here:
https://doi.org/10.14361/9783839436370-007
Book DOI: https://doi.org/10.14361/9783839436370-007
Online ISBN: 978-3-8394-3637-0
More info on the book on the transcript website, here.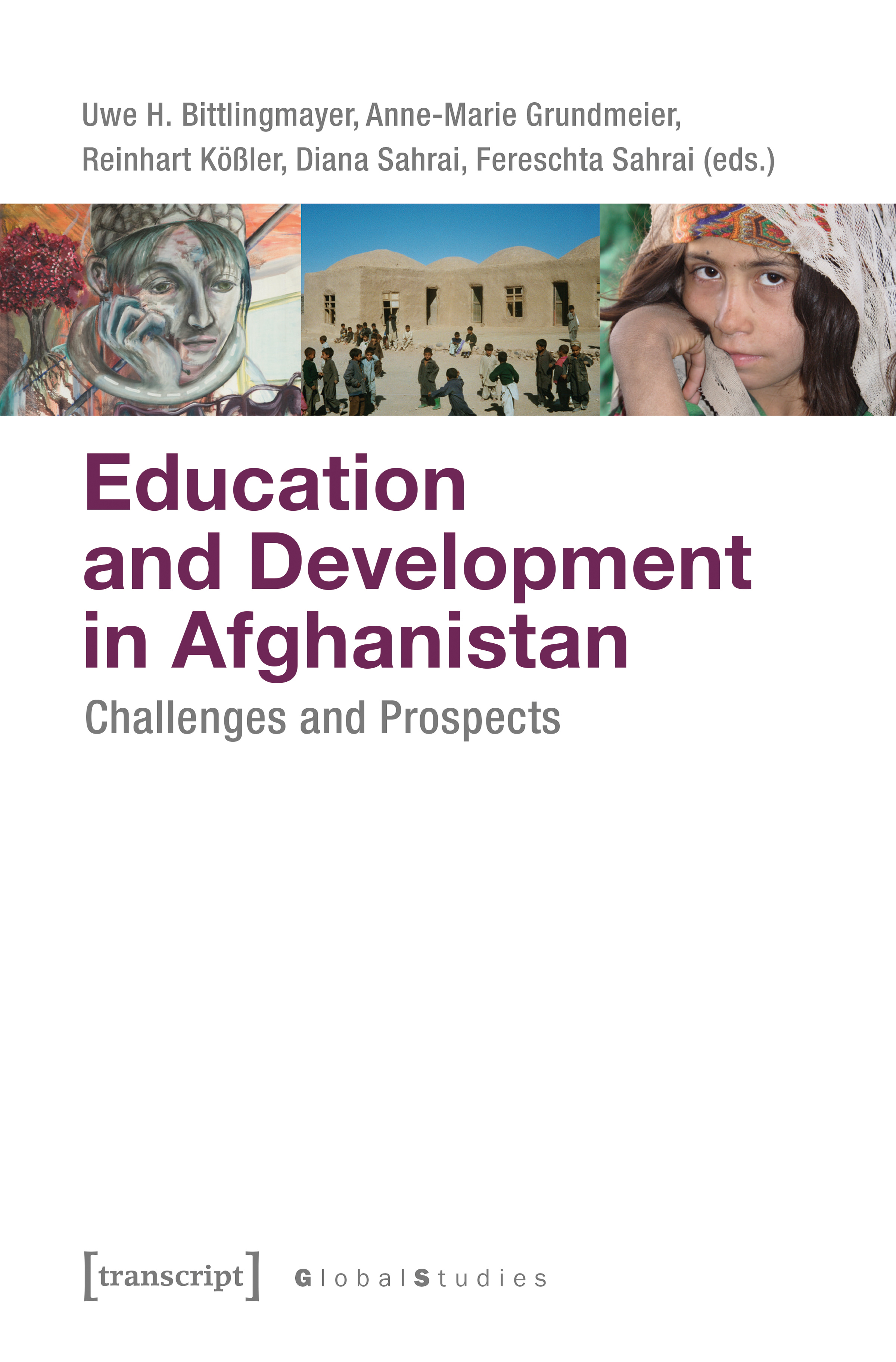 List of content and the chapters' authors:
Preface
Ulrich Druwe & Walter Rohrer | 9
If you Want Peace, Educate for Peace: Education in Afghanistan
Francisco Rojas Aravena | 11
Introduction: Education and Development in Afghanistan between History, Expansion, Hope and Disillusions
Uwe H. Bittlingmayer, Anne-Marie Grundmeier, Reinhart Kößler, Fereschta Sahrai & Diana Sahrai | 15
DEVELOPMENT AND EDUCATION FOR PEACE? SOME PERSPECTIVES
Development – Analytical Value and Ideological Baggage of an Elusive Term
Some Considerations on Principle
Reinhart Kößler | 47
Local Languages and Their Role in Education for Development in Afghanistan
Adele Jones | 63
Highly Motivated, Transnational, Heterogeneous,
and Barely Interconnected: An Explorative Online Survey among German Organizations Operating in Afghanistan: Characteristic, Commitment and Content
Stefanie Harsch & Uwe H. Bittlingmayer | 79
Schools on the Frontline: The Struggle over Education in the Afghan Wars
Thomas Ruttig | 101
TEACHER EDUCATION AND HIGHER EDUCATION IN AFGHANISTAN
Crisis and Reconstruction in Teacher Education in Afghanistan 2002 – 2016: From Emergency to Stability
Susan Wardak | 143
Macro-Trends and Dynamics of Change in the Afghan Public Education Sector: A Concise Compilation and Contextualization of Key Data Variables and Progress Indicators
Craig C. Naumann | 157
Private Higher Education in Afghanistan: An Overview
Asadullah Jawid | 175
Teacher Education at the Faculty of Education at Herat University: History, Recent Trends and Ongoing Challenges
Pohand Mohamad Joma Hanif | 193
III. EDUCATIONAL PROGRAMS AND PROJECTS
Training Teachers in Peace Education in Afghanistan: Achievements and Challenges
Razia Stanikzai, Khalil Fazli & Dianne Denton | 201
From Education in Emergencies to Facilitating Change in Afghanistan's Teacher Education System: Achievements of German Development Cooperation in Afghanistan's Education Sector since 2004
Andrea Müller | 219
Private Scholarships for Students from Poor Families at Herat University: A Small Substitution or Structural Compensationof a Governmental Task?
Heide Kässer | 237
The Project of the German-Afghan Initiative with Nomads and Semi-Nomads in the Province of Herat
Sarghuna Nashir-Steck | 245
How Afghan Embroiderers from Laghmani Discover Writing as a Tool for Communication
Pascale Goldenberg | 255
History Alive: Cultural Education as a Key to Multicultural Consciousness and Understanding
Laila Sahrai | 271
The Visual Heritage of Afghanistan: Photographic Testimonials between Destruction, Decay and Oblivion
Dominic Wirz, Anke Schürer-Ries & Paul Bucherer-Dietschi | 281
CONCLUDING STATEMENTS
Afghanistan Today – Perspectives of an Afghan Living in Exile
Anonymous |295
More Schools for Afghanistan
Laila Noor | 299
Access to Education as an Essential and Urgent Need
Sima Samar | 303